Relax....Enjoy Yourself...
Santa Leonard has become one of the premiere wine tour guide in the Northern California Wine Country! I was born and raised in Sonoma County so I know it well. I have worked for the largest most formal Wine Country Transportation Companies and have been giving quality wine tours for 12 years now. Because of my unique looks and personality I am very well known and respected in the Wine Country which means that you will get the best QUALITY service that you deserve. I started my company at the request of several of my past customers that did not want all the rules and the big price of some of the big companies!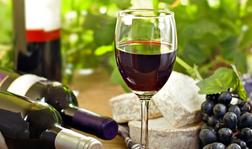 Fantastic tours of: The Alexander Valley
Dry Creek Valley
Russian River
Sonoma Valley
Mendocino County
Napa Valley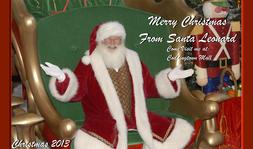 Why get lost or worst yet a ... DUI? Sit back an relax and let Santa Leonard be your guide. I grew up in the wine country and have been giving Quality Wine Tours of it for 12 Years. I know The Wine Country and The Wine Country knows me!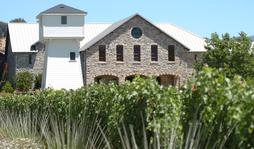 I can take you on a tour of your favorite places or I can design a tour especially for you. Each tour creates a unique experience that you will remember for a lifetime. Enjoy the magical tastes and views unique only to Northern California's Wine Country.
Happy Cars, Happy Clients
Clarice A.
We used Santa aka Leonard to drive my daughter and her wedding party.  He was wonderful!  Very accommodating, he even tried to help us with some issues we had at the rental car company.  When one of the photographers could not find the location of the groom to take pre-wedding pics, Santa stepped in with his camera and brought us the CD later.  You will not be sorry using Leonard to drive you in whatever capacity you need.  He is one of a kind!!
Zoraida S.
Santa(Leonard)- is highly recommended.  He toured us around that Monday/Labor day & we had a great time. He's very friendly & a good driver.  He knows the parts of Napa valley where to take us(that way we don't waste our precious time).
Kendra S.
We had the best time with Santa! Originally only hired him for Saturday but ended up hiring him again on Sunday. He's very familiar with Napa Valley and knows all the hidden gems. Every place he recommended was awesome. If you are looking for a driver, call Santa! You won't be disappointed!!!!!
Kathleen V.
We absolutely enjoyed our day with "Santa".  He put together and enjoyable mix of wineries for us.  He was extremely knowledgeable and struck the proper balance between being an  informative guide without imposing.  We would absolutely use his services in the future and encourage others to do the same.
Brandy R.
I was a little hesitant at first to book someone to drive my own vehicle while I wine tasted but I'm so glad we did! We had an amazing girls day with Santa! He coordinated our tastings and kept us on schedule throughout the whole day. He even managed to squeeze us in to a place that wasn't on our agenda.... all while driving our own vehicle. I can't recommend him enough!
Megan S.
Had a great time with Leonard Santa. The van was easy to get in and out of and he knew everyone at each winery. Also picked us up and dropped us off from our accommodations in Guerneville which was really nice.
Leslie C.
Santa has been our driver and guide for wine tours the last 3 years.  He's knowledgeable about so many wineries, researches those on our itinerary and gives great input about them. We love his stories, the wineries love him, and he's just a pleasure to be with.  Looking forward to many more trips.  Thank you Santa!
Christina K.
Santa was really awesome! He drove us around the Napa area and got us to the nicest wineries.
Thomas B.
Santa not only delivers during Christmas he delivers in June. He drove us one day, filling in our empty wine tasting spots with Jems, and he planned the next day for us which was unbelievable. Santa was prompt and on time. He is a very dependable driver and is courteous to all. His knowledge of the area is vast and his friendships with all the wine staffs was evident during our trip. Joseph and Porter wineries were awe inspiring.
Sheryl N.
Santa was absolutely amazing!! He drove our rental on a girls trip to Napa Valley. He was super knowledgeable about the region, recommended great wineries and spots to eat... accommodated is when we wanted to add on to our trip. He clearly has relationships with the wineries, and would set us up with our tasting, make sure we were taken care of, and then go take care of Santa business while we enjoyed ourselves. I would highly recommend him!!!
Kiley M.
Leonard saved our day!!! We called him last minute to take care of our driving in Guerneville and was absolutely amazing. He made our wine tours so fun and knew everything about the town! So so thankful for him and can't wait to use him again when we are back! Thanks Leonard!!
Alex C.
Santa was awesome! He really knows the entire area so well, having grown up there. He drove us 4 ladies around over 4th of July weekend and it was awesome! He was super punctual and kept us on schedule and very courteous and kind. 10/10 would call him again!
Gianna A.
Incredible experience! He took me plus 6 other ladies around the Dry Creek Wineries for the full day and we had a BLAST! Great pricing, super flexible with vehicle driving/options. 100% will be using him again! Santa made the day! Huge hit for everyone of us girls as well as he has relationships with the wineries!  thank you so much!
Vicki S.
Santa put together a great day for us touring the Alexander Valley and Dry Creek area. Santa spent time with me prefer to our booking going our our likes and favorite styles of wines. He then tailored the wineries to our wine preferences and winery style. He made all the arrangements and the day could not have been more perfect. He introduced us to two new wineries-Unti & Robert Young which we loved. These are both a bit off the beaten path which we may not have found on our own. Santa is a wealth of information, has lots of stories, local lore and best of all is a great driver!! Highly recommend his wine tours to all our family and friends.
Mandi F.
Booked a wine tasting full day tour for our group of 6 ladies with Santa in May of 2019. Santa booked several tastings for us ahead of time and also coordinated with some of our favorites that we knew we wanted to go to. He picked us up at our hotel and drove our van that we had already rented for the drive up from the city which was very cost effective. Conversation, entertainment, and safety were all top notch during our time with Santa. Overall, we had a great day in wine country knowing we had a safe and friendly driver! We will definitely call on Santa again for our next trip. Thanks Santa!
Courtney L.
Leonard was such a great driver and host for our day of wine tasting in Healdsburg. He was super professional, punctual, and fun - and we all had a wonderful time, even in the light rain. Highly recommend!
Jerry M.
Santa is the best. His knowledge of the region is amazing. His relationship with the wineries is exceptional. He can get you in to all the cool places. "He knows a guy" is the best way to put it. You can't go wrong with a sleigh ride with Santa. He's worth every penny and then some. We will be back to ride with Santa again
Jordan P.
Santa Leonard was great! He was kind and knowledgeable as a tour guide and driver. He was helpful in navigating Napa and would 100 Percent book him again if I'm out that way!
Alli B.
We loved our wine tour weekend with Santa Leonard! Booking was easy. We stopped by the Hertz in Napa to add him as a driver on our rental car and we were on our way within minutes. He was a great tour guide, helped us find wineries that we would enjoy, drove us to the top of Mt. Veeder effortlessly, and even helped us get in to wineries the day of...Everyone knows Santa in Napa! Highly recommend.
Katie D.
Santa was wonderful!   He was incredibly knowledgeable and kind.   Such a pleasure to have him guide us around the valley!
My low rates are just $40.00 per hour... plus gratuity!
I have a 5 hour minimum
​….I accept Cash and all major credit cards !
( Please add $8.00 Credit Card Processing Fee)
Please check out my 5 star Yelp Rating !
​Santa Leonard   Wine Country Tour Guide
Wine Tours By Santa 
I drive your car  to save you money!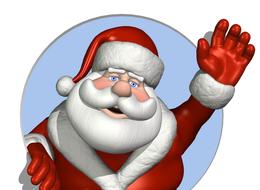 Email:  wtsanta@gmail.com          Phone:  (707) 535~9175
​I provide the BEST EXPERIENCE of Wine Country
With Great SERVICE and RATES